Saturday, September 25, 2004
The West vs The East
Lama nggak update blog nih.. coz hari-hari ini sibuk dengan assignments yang menumpuk..



Fuiihh.. Tapi saya sempatkan menonton film sebentar di komputer.. Film yag saya tonton kali ini adalah Shanghai Noon.. Film agak lama memang, tapi bagus sehingga
nggak bosenin
.. Ketika 2 kubu dipertemukan (barat dan timur) banyak perbedaan budaya yang terjadi. Tetapi perlu diingat, bukan berarti dengan perbedaan mereka akan saling bermusuhan.. Mereka tetap bisa bersatu walau beberapa kali salah paham.

Ada beberapa
statement
yang tercipta dalam film ini.. Diantaranya adalah berbeda bukan berarti harus bermusuhan. Lain lagi, harta bukan segalanya, life is more money.. Ada satu kalimat yang Saya suka dari film ini... Ketika Jacky Chan akan melakukan "ritual" ke-Chinaan-nya di sebuah Gereja di Amerika, dia enggan melakukan dengan mengatakan "This is the West, not the East".. Dan yang paling saya suka adalah kalimat "The Sun may rise from the East, but it sets in the West".. Sungguh Adil sang Maha Pencipta..

Bayangkan kalau matahari rises and sets in the West? Betapa angkuhnya kelak mereka..

The West vs The East
or
The West vs The Rest?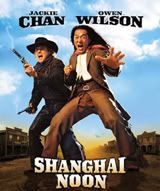 Readers answer