Friday, March 04, 2005
SBY's Son Graduation at Curtin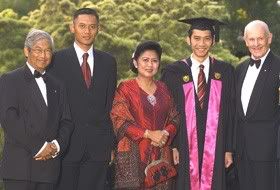 Mr Edhie Baskoro Yudhoyono
, the son of Indonesian President
Susilo Bambang Yudhoyono
, was graduated from Curtin University of Technology with a commerce degree last week. His graduation become "The Week's main story..." on News @Curtin. His elder brother and Mrs President attended the graduation ceremony.
More story
here
.
Hehehe meskipun gak kenal, tetapi secara pribadi pengen ngucapin
"Congratulations for the graduation. Semoga sukses selalu"
:) Ada cerita dari teman kalau Edhie Baskoro sendiri anaknya
low profile
. Dan menurut kode etik kepresidenan, memang dia selalu dijaga intel or paspampres... weekkssss kapan yaaah gue gitu :)
Sekali lagi, selamat dan selamat kalau beliau membaca postingan di blog ini :)
Tunggu apalagi?
yang lain, ayo dong ucapin selamat
:D
ps. Photo taken from http://curtin.edu.au/news.html